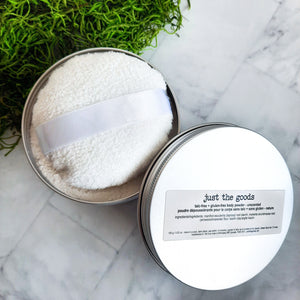 Please note: powder tins are currently out of stock; I'm waiting for my re-stock to arrive, and don't currently have an ETA. Affected products will return to inventory as soon as they become available. 
Created by popular request, Just the Goods is pleased to offer a smooth and silky talc-free and gluten-free body powder designed to add a light dusting of all natural fragrance while controlling moisture. Be confident knowing Just the Goods never uses artificial fragrance, which is often linked to numerous health concerns, including allergies.
Please note that unscented is the most suitable choice for baby and child care. 

And, did you know? This product doubles as dry shampoo for light to medium hair! 
This product is made without artificial anti-caking agents. Please store away from moisture/humidity for maximum enjoyment.
Ingredients: 
manihot esculenta (tapioca) root starch, maranta arundinacea root (arrowroot) flour, kaolin clay
Available formats:
- 100 g in a reusable tin
- 100 g in a reusable tin with a handmade powder puff
- 100 g refill in a resealable bag

Sifter top / shaker bottles are sold out and will not be restocked at this time. Thank you.