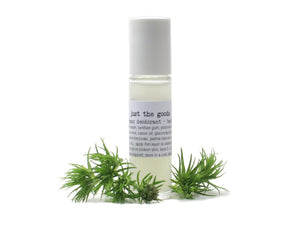 Two years of dedicated research and testing has paid off with a fantastic product that has collected glowing reviews!
Just the Goods is thrilled to offer an effective liquid roll-on deodorant that is completely free of parabens, propylene glycol, and other suspicious ingredients found even in brands that declare themselves "natural".
Just the Goods' deodorant works because potassium alum (which scores a ranking of "1″ on EWG's Skin Deep Cosmetics Database) and palma rosa essential oil control odour while castor oil and a blend of gluconolactone and sodium benzoate offer anti-bacterial support. The EWG rating for the formula overall is 1. 
Due to the natural fragrance of palma rosa essential oil — a leaf with a lightly herbal scent — Just the Good's "basic" variety isn't unscented. Beyond this, however, three fragrance varieties are offered: basic (light herbal scent); cedar; lavender; citrus blend (sweet orange, lemon, lime, and lemongrass essential oil (not recommended for sensitive skin)
Please note that the sample size format is currently only available in "basic". It should also be noted that the mini roll-on bottle, normally used for perfume oil, can be a little tricky to apply to underarms since it was not designed for that purpose. To use, shake the bottle well and raise arm high allowing the bottle to be completely up-side down while applying. This ensures the deodorant can cover the roller ball fully and apply evenly.  This mini bottle can be refilled just like the regular sized 50 ml bottle.
This product does not stain clothing, even with regular use over 10 years.
This product is handcrafted without the use of artificial preservatives and lasts longer when exposure to the elements (i.e. air, humidity, sunlight) is kept to a minimum. Please store in a cool, dark place and keep tightly sealed between uses for maximum longevity.
Ingredients:
distilled aqua (water), xanthan gum (from corn), potassium alum, aloe barbadensis (aloe) leaf gel, ricinus communis (castor) seed oil, gluconolactone, sodium benzoate, cymbopogon martini (palmarosa) oil
Directions:
Apply thin layer to underarm; do not apply to broken/freshly shaved skin. Lasts 5 – 6 hrs or longer; reapply as required. Store in a cool, dark place away from direct sunlight for maximum longevity.
Format:
Available in 7.5 ml / 0.23 oz glass roll-on bottles. Full size formats available here are 50 ml / 1.69 oz glass roll on and 118 ml / 4 oz HDPE refill bottles