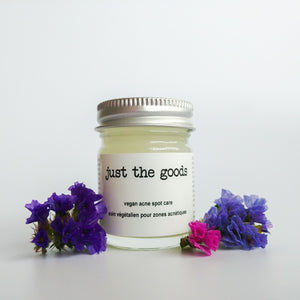 Just the Goods' simple yet effective vegan acne spot care combines the clean healing benefits of aloe vera with the antibacterial properties of astringent essential oils to care for blemishes without over-drying skin in the way products filled with petroleum and alcohol are known to do.
Feel free to combine this product with Just the Good's other facial care products for oily/combination and/or acne-prone skin, including face wash, toner, and moisturizer.
Note: toner is arguably the most important step in preventing occasional acne, and should be used after washing / before applying moisturizer. Additional skin care suggestions, including the most effective way to use toner, can be found here: http://shop.justthegoods.net/?page_id=4126.
This product is handcrafted without the use of artificial preservatives. Please store in a cool, dry place away from direct sunlight for maximum longevity.
Ingredients:
vegan acne spot care / soin végétalien pour zones acnétiques: aloe barbadensis (aloe/aloé) leaf gel, lavandula angustifolia (lavender/lavande) oil, pelargonium graveolens (geranium bourbon/géranium bourbon) oil, melaleuca alternifolia (tea tree/arbre à thé) oil, cymbopogon schoenanthus (lemongrass/citronelle) oil
Directions:
To use, add a small dab/thin layer to affected area on freshly washed skin. Allow the gel to dry sightly before applying make-up, if desired. The gel may be re-applied as necessary.
Format: 
25 ml / 1 oz glass jar is the new permanent, default packaging (HDPE plastic packaging has been phased out).