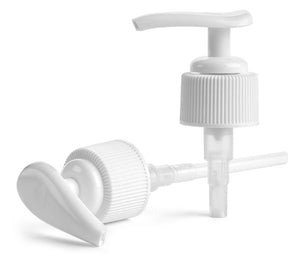 These re-usable pumps fit Just the Goods' 4 oz or 8 oz bottles (both plastic and aluminum) and are suitable for use with face wash, toner, facial moisturizer, and/or hand and body lotion.
For your safety, when switching bottles, always use the same pump with the same type of product. In other words, don't use a pump for toner, then for facial moisturizer.
Do not wash pumps with tap water unless you can absolutely *guarantee* there is no water in the pump's spring mechanism or straw before inserting it a full bottle of product -- tap water contamination risks causing mould growth.
Pumps are sold individually, not in pairs. This image, taken from my distributor's website, simply show two views of the same item. 
For information (and a video) on how to unlock and/or trim a bottle pump, please visit: https://justthegoods.zendesk.com/hc/en-us/articles/4419623056663-How-do-I-unlock-and-or-trim-a-bottle-pump-
Materials
Plastic pump apparatus with a metal spring + a plastic tube trimmed to fit either JTG's 4 oz or 8 oz bottle as selected using the drop down menu. Appearance may vary.