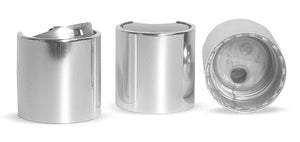 You asked, we searched, and now it's finally here! This re-useable cap fits all 4 oz and 8 oz bottles, and is a perfect option for use with face wash, body wash, shampoo and other semi-viscous liquids/gel formulas.
For your safety, when switching bottles, always use the same cap with the same type of product . In other words, don't use a cap for shampoo, then for face wash =-)
Materials
Plastic cap. Fits all Just the Goods' 4 oz and 8 oz bottles. Appearance may vary.