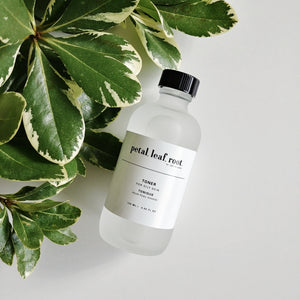 Pure and refreshing, petal, leaf, root. by Just the Goods' toner for oily skin features the highest quality undiluted alcohol-free organic lavender hydrosol produced using a steam distillation process and blended with two skin nourishing essential oils. This product contains plant-based ingredients that cleanse, nourish, and balance naturally oily skin; it does not contain any synthetic mattifying ingredients.
Lavender is antibacterial, antiseptic, and anti-inflammatory allowing it to remove bacteria from skin while protecting it from irritation. In addition to providing moisture, it promotes circulation, which helps tone and firm skin by encouraging cellular renewal. It's calming effect on the nervous system can help to minimize the impact of stress on skin. 

One of the world's most powerful astringents, yarrow can strengthen skin tone, balance sebum production, and reduce enlarged pores. And, thanks to its well balanced antiseptic, antibacterial, anti-inflammatory, and emollient properties, it is furthermore known to treat and soothe infections, rashe and reducing redness. 

Rosemary essential oil is a potent anti-fungal and antibacterial agent that delivers a deep, disinfecting clean capable of taming sebum and stimulating circulation to revitalize dull skin and promote a healthy glow. 
Toner is best applied with a cotton pad after washing the face, or after use of a mask, to reach into pores for a complete finish. JTG's tips for daily skin care, including how to most effectively use toner, can be found here: https://justthegoods.net/pages/tips-for-daily-skin-care.


Each glass bottle contains 120 ml / 4.05 fl oz. This product ships in an HDPE bottle during winter months when freezing temperatures risk shattered glass. BPA-free aluminum may be substituted in the case of supply chain issues.
This product contains yarrow, which is not considered generally safe for use during pregnancies and nursing. Pregnant individuals are encouraged to use the formula for normal/sensitive skin. Please click here for details: https://justthegoods.net/collections/pregnancy-nursing-babies-and-children

All petal, leaf, root. by Just the Goods products are…
made with 100% certified organic plant and mineral-based ingredients 
vegan and certified cruelty-free by the Leaping Bunny Program 
free from artificial preservatives, colours, and/or fragrances 
free from gluten, GMOs, nuts, palm, petrochemicals, and soy

offered in glass bottles/jars and packed in boxes printed on post-consumer paper with plant-based inks using a waterless process
This product is handcrafted without the use of artificial preservatives and lasts longer when exposure to the elements (i.e. air, humidity, sunlight) is kept to a minimum. Please store in a cool, dark place and keep tightly sealed between uses for maximum longevity.
NOTE: Not sure if this product is right for you? Try a sample first by selecting the smaller packaging option using the drop down menu
Ingredients/
Ingrédients

:

 lavandula angustifolia (lavender) flower water*, rosmarinus officinalis (rosemary) leaf oil*, achillea millefolium (yarrow) oil*, eugenol•, geraniol•, limonene•, linalool•
* organic origin
• component of essential oil

distillat de lavandula angustifolia (eau de lavande)*, huile de rosmarinus officinalis (romarin)*, huile d'achillea millefolium (achillée)*, eugénol•, géraniol•, limonène•, linalol•
* biologique
• composant d'huile essentielle
Directions/Mode d'emploi: 
Shake well before use. Apply to a cotton disc, then wipe face in upward motions avoiding the eyes. Repeat as needed until no more oil/dirt from skin transfers to the cotton disc. Store in a cool, dark place.

Bien agiter avant l'emploi. Appliquer sur un disque de coton, puis passer sur le visage en mouvements ascendants en évitant les yeux. Répéter au besoin jusqu'à ce qu'il n'y ait plus d'huile ou de saleté provenant de la peau sur le disque de coton. Garder à l'abri de la lumière et de la chaleur.