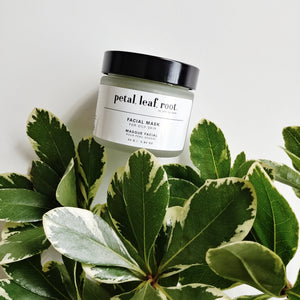 The benefits of carefully blended face masks are well known -- they help to remove accumulated impurities from pores while imparting valuable minerals and other nutrients. petal, leaf, root. by Just the Goods offers a mask for oily skin that supports gentle, antibacterial cleansing. This product contains plant-based ingredients that cleanse, nourish, and balance naturally oily skin; it does not contain any synthetic mattifying ingredients.
Kaolin is a mild yet effective clay that helps to absorb accumulated oil and dirt from pores without over-drying.

Parsley

helps balance sebum production while also providing antibacterial and anti-fungal protection, making it helpful for treating acne among other minor skin infections.

It is also high in antioxidants, which can help reduce the amount of free radicals which can be responsible for skin damage.

High in Vitamin C, parsley helps to stimulate collagen production and ultimately the renewal of skin cells overall. 

Moringa is both deep cleansing and highly moisturizing thanks to being rich in phytonutrients such as chlorophyll, amino acids, and minerals, which are antibacterial, antioxidant, immune-boosting, and anti-inflammatory.

As such, it can gently help to balance minor issues such as blackheads and pimples.

Spirulina is high in protein, amino acids, calcium and iron, vitamin E, and other nutrients making it well regarded as a dietary supplement.

When applied topically it can reduce inflammation, tone skin, and encourage cell turnover for a more radiant complexion.

Being rich in chlorophyll, it can deeply cleanse skin while retaining essential moisture.
Masks are best used after the face has been well cleaned; follow a mask with with toner to remove any residue that may be left behind after rinsing. Find JTG's tips for daily skin care, including how to most effectively use toner, here: https://justthegoods.net/pages/tips-for-daily-skin-care. Note: a facial steam can be used before and during a mask to extend it's efficiency and benefits.

Each glass jar contains 24 g / 0.84 oz. This product contains ingredients considered safe for use during most pregnancies and nursing. Still, it is best to check with your health care providers first in case of any unique circumstances which may demonstrate otherwise.
All petal, leaf, root. by Just the Goods products are…
made with 100% certified organic plant and mineral-based ingredients 

vegan and certified cruelty-free by the Leaping Bunny Program 

free from artificial preservatives, colours, and/or fragrances 

free from gluten, GMOs, nuts, palm, petrochemicals, and soy

offered in glass bottles/jars and packed in boxes printed on post-consumer paper with plant-based inks using a waterless process
This product is handcrafted without the use of artificial preservatives and lasts longer when exposure to the elements (ie air, humidity, sunlight) is kept to a minimum. Please store in a cool, dark place and keep tightly sealed between uses for maximum longevity.
NOTE: Not sure if this product is right for you? Try a sample first by selecting the smaller packaging option using the drop down menu



Ingredients/

Ingredients

:
kaolin clay, carum petroselinum (parsley) leaf,  moringa oleifera (moringa) leaf powder*, arthrospira platensis (spirulina) powder*
*organic origin

kaolin clay, petroselinum crispum (parsley) leaf*, moringa oleifera leaf powder ( moringa)*, spirulina platensis powder (spirulina)*
*organic
Directions/Instructions: 
After washing your face thoroughly, mix ½ tbsp of face mask with water to form a light paste. Apply mask to skin avoiding eyes and lips. Leave on for 5-8 minutes then rinse with warm water, rubbing in circular motions to exfoliate. Store remaining dry product in a cool, dark place

Wash face thoroughly. Mix ½ tablespoon of mask with water to obtain a light paste. Apply to the skin, avoiding the eye and mouth area. Leave on for 5-8 minutes and exfoliate in circular motions with lukewarm water. Store remaining dry product in a cool, dark place.
For detailed information on how to use Just the Goods facial cleansing grains, facial scrubs, and face masks, please visit: https://justthegoods.zendesk.com/hc/en-us/articles/4420549719575-How-to-use-Just-the-Goods-cleansing-grains-facial-scrubs-and-face-masks