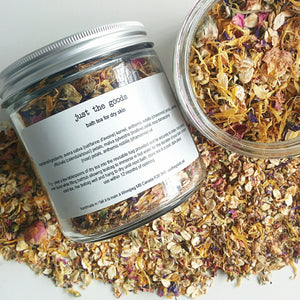 While developing ideas for an upcoming collaboration, I created this luxurious bath treat that turns any tub into a spa. Designed for those with dry skin, but suitable for all skin types, this combination of oats and dried botanicals -- chamomile, calendula, malva/mallow and rose -- reduce inflammation while imparting skin softening and moisturizing benefits directly into bath water. The aromatherapy value is gently soothing making it perfect to enjoy before bedtime.
This preservative-free product lasts longer when exposure to the elements (i.e. air, humidity, sunlight) is kept to a minimum. Please store in a cool, dark place and keep tightly sealed between uses.
Ingredients/ingrédients:
avena sativa (oat/farine d'avoine) kernel, anthemis nobilis (chamomile) petals, calendula officinalis (calendula/souci) petals, malva sylvestris (mallow) petal, rosa damascena
(rose) petals, anthemis nobilis (chamomile) oil
Directions:
Place a few tablespoons of dry tea into the reusable bag provided and tie securely to close; hang teabag under faucet while filling bathtub allowing teabag to immerse in hot water for the duration of your bath; compost used tea, rise teabag well and hang to dry until next bath; store tea in a cool, dark place; use within 12 months of opening
Format:
Each reusable glass jar contains 70 g as well as one reusable drawstring bag with which to steep the herbal blend into bath water.