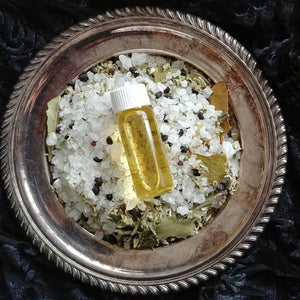 For many people around the world, November is time to celebrate our ancestors and their gifts to us. This ritual perfume/anointing oil as a means through which to thin the veil at any time of year by deepening reflection, increasing remembrance, amplifying communication, and enhancing our ability to both receive learning and tune into our natural intuition
This listing is for perfume only -- a complex blend that highlights the soft warmth of amber and rose, the depth of francincense, and the light sweetness of birch. 
Perfume (7 ml) features:
rose opens the heart to attract compassion, understanding, healing, and love

amber 

absorbs negative energy and transmutes it into positive

cedar honors ancestors and celebrates important life transitions such as births and initiations

frankincense purifies, transforms spirit, and allows for communication with those no longer with us

helichrysum can cleanse energy and call ancestors in  

birch is connected with rebirth and reincarnation, and can transmit messages to the other side
Ingredients:
rosa damascene (bulgarian rose and tea rose) oil, pinus succinifera (tunisian amber) oil, juniperus virginiana (cedarwood) oil, boswellia frereana (frankincense) oil, helichrysum splendidum (helichrysum) essential oil, betula alba (birch) leaf oil

Directions:
Apply to skin as desired. Store in a cool, dark place.