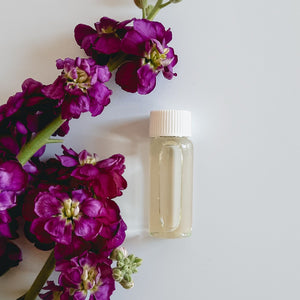 Summer isn't over yet! An unconventional evening fragrance developed while seeking to capture the essence of moonflower, this scent combines classically romantic notes with citrus elements that twinkle like stars overhead. Featuring:
soft and dreamy amyris

smoldering jasmine

crisp litsea fruit oil
earthy oakmoss
passionate Bulgarian rose 

Wear it alone or -- for a more complex sensory experience -- layer it with Just the Goods' Limited Edition Summer Floral Day Blooming perfume. Please note that while inspired by moonflower, this perfume oil does not include any moonflower/datura/morning glory; only the oils outlined in the ingredients. 
Please note that since this blend is a limited edition item, only 20 vials of perfume have been made -- there are no samples, and this item is final sale. Thank you!
Ingredients
caprylic/capric triglyceride (fractionated coconut oil), simmondsia chinensis (jojoba) seed oil, amyris balsamifera (amyris) frlower oil, jasminum sambac (jasmine) flower oil, litsea cubeba (litsea) fruit oil, evernia furfuracea (oakmoss) oil, rosa damascena (bulgarian rose) flower oil
Directions
Apply to skin as desired. Store in a cool, dark place.

Format
7.39 ml / 0.249 fl oz in a glass vial with a plastic cap. This is not a roll-on format. Please note the vial cap for this perfume is black, a packaging choice to distinguish this blend from the day blooming variety made after taking this photo.