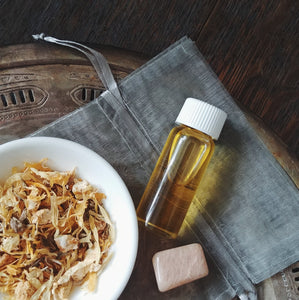 Svadhisthana, the sacral chakra, is associated with the emotional body, sensuality, creativity, relationships, and connection to our inner and outer worlds. Translated from sanskrit, Svadhisthana means "your own place". Its element is water so its energy is characterized by flow and flexibility and it is directed by the principle of pleasure.
All chakras need to be balanced in order to promote wellbeing; however, since so many of us lead busy lives and don't allow ourselves enough opportunities to  "stop and smell the roses, thinking about the sacral chakra can be an important reminder that life is meant to be enjoyed.
The oils in this perfume are ones are all grounding, earthy, warm and romantic -- ylang ylang, sandalwood, patchouli, and rose -- with a pop of bright energy in the form of sweet orange.
This preservative-free product lasts longer when exposure to the air, humidity, sunlight, etc. is kept to a minimum. Please store in a cool, dark place and keep tightly sealed between uses. 
Ingredients:
sacral chakra perfume oil: caprylic/capric triglyceride (fractionated coconut oil), canaga odorata (ylang ylang) flower oil, santalum album (sandalwood) oil, pogostemon cablin (patchouli) leaf oil, rosa damascena (rose) oil, citrus sinensis (sweet orange) oil


Directions:
sacral chakra perfume oil: apply to the body as desired (ie temples, wrists, neck, etc)


Format:
Each vial of perfume oil is 2 drams / 7. 3 ml / 0.125 fl oz