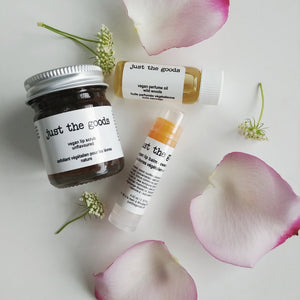 Just the Goods electronic gift cards / certificates are available in a variety of denominations, and are redeemable for any combination of products and/or shipping at this website, http://www.justthegoods.net. This gift card can not be redeemed at any of Just the Goods' retail partners. No handling or processings fees are charged.
Currency
Gift cards are issued in Canadian Dollars, the primary currency governing this website. If you have opted to purchase in different currency, or if Shopify has geolocated that you are purchasing from a different geographical location, please note that checkout will present you with the equivalent value in your local currency. For example, in August 2022 a $50.00 CAD gift card may appear at check out as approximately $39.00 USD / approximately €38 EUR. Currency conversion is calculated and updated automatically on a daily basis. 
E-gift Card Format
These e-gift cards are designed to be sent to the receipient via email so, when checking out, please feel welcome to customize a message to the recipient by adding notes at checkout, and please use the intended recipient's email address. Alternatively, if you're including a gift card as part of a larger order of items for yourself, you can use your email address, then forward the gift card via email when it is automatically generated and arrives in your inbox. 
Gift Cards are not designed to be printed
These electronic gift cards do not always print as expected, especially if the 16-digit code happens to include wide characters such as D or O as compared to narrow characters such as I or 1. Printing a gift card may accidentally exclude the last four digits, so sending it by email will allow the recipient to copy/paste all characters necessary to redeem the card.  Thank you!