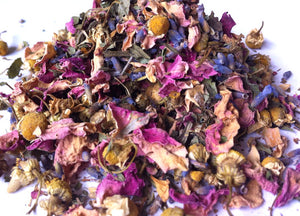 Urban Earth Teas offers organic, loose leaf, artisan teas made with certified organic ingredients, which are either certified fair trade, or bought directly from the growers whenever possible. Urban Earth Teas is proud to offer products that are as good for the earth as they are for the body. All blends are created by Doctor of Natural Medicine, Mara Jones, who has over 15 years of custom tea blending experience. She believes that teas should be as gorgeous as they are good for you. Urban Earth Teas is based in Powell River, British Columbia.

Peace is both relaxing and uplifting thanks to a beautiful, floral blend that helps to battle the blues.
Ingredients: certified organic chamomile, lemon balm, borage, lavender, and rose petals.

Approximately 2 grams of tea makes for one wonderful cup/serving.