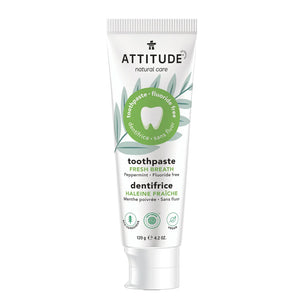 Just the Goods is pleased to welcome Attitude, a fellow maker of EWG Verified skin and body care that formulates with an emphasis on clean, high-performance ingredients packaged in less plastic. Attitude is committed to offsetting their impact by planting trees for every product sold.
---
Attitude's Fresh Breath toothpaste is formulated with plant and mineral-derived ingredients including refreshing peppermint flavor. It also contains sodium bicarbonate to gently remove surface residue. EWG VERIFIED™️, fluoride-free, and vegan, it will reveal bright smiles. Plus, it comes in a tube and no unnecessary packaging cardboard box, a more sustainable alternative to traditional toothpaste.

EWG VERIFIED™️: free of ingredients of concern according to the EWG
Adult toothpaste made from plant and mineral derived ingredients: contains green tea extract known for its antioxidant properties as well as papaya leaf extract recognized to prevent dental plaque in combination with brushing
Contains sodium bicarbonate to gently remove surface stains and residue, as well as a refreshing peppermint flavor for an extra clean sensation
Alcohol-free, fluoride-free and paraben-free: contains a soft, gel-like formula for a seamless brushing experience
No unnecessary packaging: sold without a cardboard box
100% vegan and cruelty-free product
This product is offered by Just the Goods as final sale. Sample sizes forthcoming (currently out of stock)
Directions
 Do not swallow. Should be used as part of an oral health program that includes regular flossing and dental check-ups. Brush teeth thoroughly for at least 1 minute twice a day, preferably after each meal, or as directed by a dentist. Store at room temperature (15-30 °C)
Ingredients
Sorbitol, aqua, glycerin, hydrated silica, sodium methyl cocoyl taurate, mentha piperita (peppermint/menthe poivrée) oil*, xanthan gum, citric acid, stevia rebaudiana leaf/stem extract, sodium benzoate, carica papaya (papaya) leaf extract, camellia sinensis (green tea) leaf extract, sodium bicarbonate, potassium sorbate, sodium chloride. *Naturally contains: D-limonene.
Note from Attitude's website: "Our products are constantly evolving, hence, please refer to the product packaging for our most accurate ingredient list." -- Just the Goods will take very best efforts to identify changes and update this website

Also noted on Attitude's website: "Please note that our products have always contained fragrances of natural origin (except for unscented products). The only thing that has changed is the way we display this information on our packaging. EWG has requested that we add the term *fragrance (parfum) to our list of ingredients because their internal standard now makes it mandatory for companies to indicate which ingredients are part of the fragrance.
Format
120 g / 4.2 oz in a plastic tube without extra exterior packaging. 

Please note: the packaging for this format may differ slightly from the visuals on this page.