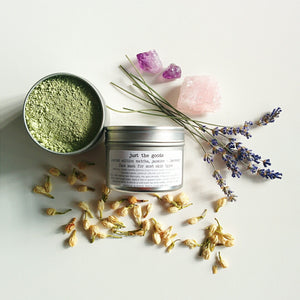 Originally a limited edition item offered based on the availability of organic lavender harvested from my garden, this product is now produced year 'round using organic lavender supplied by WestPoint Naturals!

Celebrating the height of summer, this limited edition facial mask typically features two of my favourite things: vibrant matcha and aromatic lavender.

Kaolin is a mild yet effective clay suitable for all skin types selected for its ability to absorb accumulated oil and dirt from pores without over-drying. Organic AOI matcha is prized as a high quality beverage -- applied to skin, it promotes cellular regeneration and decreases sebum production making it beneficial to all skin types, particularly when weather is hot and humid. Lavender also stimulates cellular regeneration while offering mild antibacterial support that leaves skin feeling fresh and clean. Jasmine is softening, mildly exfoliating, and promotes radiance, which is useful for all skin types, but especially great any time skin feels dull or dry and needs a boost.

This product is suitable for most skin types. It contains no essential oils, but does include a large quantity of recently ground lavender and jasmine petals, so it is fragrant and thus potentially not suitable for those allergic to botanical ingredients.

This preservative-free product lasts longer when exposure to the elements (i.e. air, humidity, sunlight) is kept to a minimum. Please store in a cool, dark place and keep tightly sealed between uses.
Ingredients:
kaolin clay, organic camellia sinensis (matcha) leaf, lavandula angustifolia (lavender) petals, jasminum officinale (jasmine) petals
Directions:
After washing face thoroughly, mix approximately ½ tbsp of face mask with a slightly warm or cool liquid of choice (i.e. water, aloe vera gel juice, rose water, green tea, etc.) to form a light paste; apply to face in upward strokes avoiding the eyes, nostrils and lips; let sit for 10 - 15 minutes or until mask is beginning to dry; rise well (rubbing in a circular motion to exfoliate if desired) and apply moisturizer as desired.
For detailed information on how to use Just the Goods facial cleansing grains, facial scrubs, and face masks, please visit: https://justthegoods.zendesk.com/hc/en-us/articles/4420549719575-How-to-use-Just-the-Goods-cleansing-grains-facial-scrubs-and-face-masks 
Format:
Each tin contains 30 g / approx 8 applications.
2 g sample bags are made at the end of each batch and are subject to availability. There is usually no estimated date on when samples will be back in stock -- more will be made as soon as a new batch of full-sized masks are required/made-to-order.  The sample bags are made out of biodegradable glassine paper.