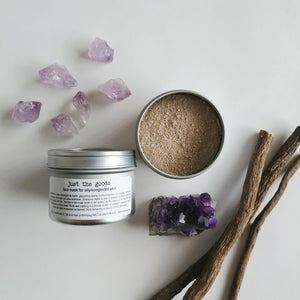 Did you know that the most common skin type in the world is oily? That's right! So, in a sense, it should actually be the skin type known as "normal", *lol* While it is the most common, it can also be the most frustrating to maintain because excess sebum production in skin can contribute to clogged pores, which in turn leads to blackheads, impacted sebaceous glands/sebaceous cysts, and acne. This mask is designed to help; weekly use is recommended.
Licorice root powder contains licochalcone, which helps to regulate the skin's oil production to calm over-active glands. It also contains glycyrrhizin, a helpful anti-inflammatory, and glabridin, which is believed to benefit the connective tissue of skin. High in antioxidants, liquorice can fight skin-damaging free radicals. Well blended with clay, the licorice scent is barely noticeable when dry, and only very faintly when wet. So, if you're not a fan of licorice flavour, feel confident that this is not the same. Samples in limited availability made from batch ends are available to try; select them using the drop down menu. 
Australian olive green clay, packed with a wide array of minerals, is the strongest of all clays used in facial care restoring balance to acne-prone and oily skin through the absorption of dirt and oil. Some say it is revitalizing enough to help reduce the appearance of scars. 
Kaolin is a mild yet effective clay suitable for all skin types selected for its ability to absorb accumulated oil and dirt from pores without over-drying and has been included to mediate the green clay. 

This product is best suited for oily and congested skin types. This product is not recommended for sensitive skin. 

This preservative-free product lasts longer when exposure to the elements (i.e. air, humidity, sunlight) is kept to a minimum. Please store in a cool, dark place and keep tightly sealed between uses.
Ingredients:
kaolin clay/argile de kaolin, glycyrrhiza glabra (licorice/réglisse) root powder, australian olive green clay/argile vert olive australien
Directions:
After washing face thoroughly, mix approximately ½ tbsp of face mask with liquid of choice (i.e. water, aloe vera gel juice, rose water, cool green tea, etc.) to form a light paste; apply to face in upward strokes avoiding the eyes, nostrils, and lips. As the clay in this mask tends to dry quickly, the mask can be steamed for 5 - 8 minutes to prolong wear; rise well (rubbing in a circular motion to exfoliate if desired), apply toner and apply moisturizer as desired.
For detailed information on how to use Just the Goods facial cleansing grains, facial scrubs, and face masks, please visit: https://justthegoods.zendesk.com/hc/en-us/articles/4420549719575-How-to-use-Just-the-Goods-cleansing-grains-facial-scrubs-and-face-masks 
Format:
Each tin contains 35 g / approx 10 applications.

2 g sample bags are made at the end of each batch and are subject to availability. There is usually no estimated date on when samples will be back in stock -- more will be made as soon as a new batch of full-sized masks are required/made-to-order.  The sample bags are made out of biodegradable glassine paper.