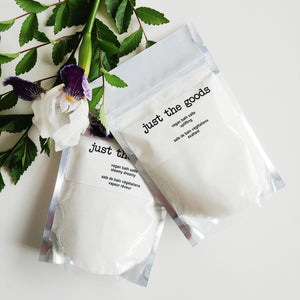 Just the Goods' bath salts draw impurities away from your skin while conditioning your bath water with sea salt, epsom salt, baking soda. Essential oils provide a range of aromatherapeutic sensations. These can be used any time, but are especially refreshing after a deep tissue massage. 

Available options are as follows:
Bright and energizing zoom zoom features peppermint, rosemary and juniper essential oil
Soft and romantic steamy dreamy features lavender and ylang ylang essential oil

<< EWG VERIFIED™

Pleasant uplifting features bergamot, rosewood and geranium bourbon essential oil

<< EWG VERIFIED™

Unscented

<< EWG VERIFIED™
This preservative-free product lasts longer when exposure to the elements (i.e. air, humidity, sunlight) is kept to a minimum. Please store in a cool, dark place and keep tightly sealed between uses.
Ingredients:
vegan bath salts – zoom zoom/

sels de bain végétaliens – zoom zoom

:

maris sel (sea salt/sel de mer), magnesium sulphate (epsom salt/sel d'epsom), sodium bicarbonate (baking soda/bicarbonate de soude), juniperus communis (juniper/genièvre) oil, mentha piperita (peppermint/menthe poivrée) oil, rosmarinus officinalis (rosemary/romarin) oil, cinnamyl alcohol/alcool cinnamylique°, citral°, eugenol/eugénol°, isoeugenol/isoeugénol°, coumarin/coumarine°, geraniol/géraniol°, anise alcohol/anis alcool°, farnesol°, linalool°, benzyl benzoate/benzoate de benzyle°, citronellol°, limonene/limonène°

vegan bath salts – steamy dreamy/

sels de bain végétaliens – vapeur rêveur

: maris sel (sea salt/sel de mer), magnesium sulphate (epsom salt/sel d'epsom), sodium bicarbonate (baking soda/bicarbonate de soude), lavandula angustifolia (lavender/lavende) oil, canaga odorata (ylang ylang) flower oil, isoeugenol/isoeugénol°, benzyl salicylate/salicylate de benzyle°, geraniol/géraniol°, farnesol°, linalool°, benzyl benzoate/benzoate de benzyle°

vegan bath salts – uplifting/s

els de bain végétaliens – exaltant

:

maris sel (sea salt/sel de mer), magnesium sulphate (epsom salt/sel d'epsom), sodium bicarbonate (baking soda/bicarbonate de soude), aniba rosaeodora (rosewood/bois de rose) wood oil, pelargoniun graveolens (geranium/géranium) oil, citrus bergamia (bergamot/bergamote) fruit oil, citral°, geraniol/géraniol°, farnesol°, linalool°, benzyl benzoate/benzoate de benzyle°, d-limonene/d-limonène°

vegan bath salts – unscented/

sels de bain végétaliens – nature

: maris sel (sea salt/sel de mer), magnesium sulphate (epsom salt/sel d'epsom), sodium bicarbonate (baking soda/bicarbonate de soude)
°component of essential oil/composant d'huile essentielle
Directions:
add to a bath under running water as desired; store in a cool dark place; use within 12 months / ajouter à votre bain sous l'eau courante; garder à l'abri du chaud et de la lumière; utiliser dans les 12 mois
Format: 
175 g / 6.17 oz in a resealable bag filled by weight