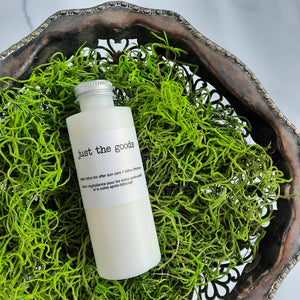 Designed with facial care for sensitive skin in mind, this nutritive, non-greasy product has become popular as an after sun lotion and for the care and maintenance of new tattoos.
Ingredient highlights:
Avocado oil is rich in vitamins A, D and E, as well as potassium, proteins, beta-carotene and numerous essential unsaturated fatty acids. It also contains a high quantity of sterolins, which is reported to help reduce age spots, help heal sun damage and scars. Avocado oil is furthermore said to increase the amount of collagen in the skin, which facilitates regeneration, particularly in the case of skin that is dehydrated or otherwise affected by difficult climates (i.e. Winnipeg's dry winters). Some claim that avocado oil can even help to relieve the dryness and itching of psoriasis and eczema.
Apricot kernel oil has a high content of vitamins A, C, and E, as well as fatty acids such as oleic and linoleic acid. It is considered gentle enough to be used in products for babies, and is thus also suitable for mature and sensitive skin. It is well absorbed without leaving a greasy feeling, and can be helpful in calming the discomfort associated with conditions such as eczema and dermatitis.
Aloe vera gel is a powerful moisturizer that simultaneously helps to remove dead skin. It also stimulates the synthesis of collagen and elastin and is known to have a healing effect on burns and other wounds, all of which translates into assisting regeneration.
Distilled water gives this lotion a smooth, fluid texture while ensuring a non-greasy finish, vegetable based emulsifying wax holds everything together, and vegetable glycerine provides staying power.
This product is handcrafted without the use of artificial preservatives. Please store in a cool, dry place away from direct sunlight for maximum longevity. 
Ingredients
aqua (water/eau), persea gratissima (avocado/avocat) oil, prunus armeniaca (apricot/abricot) kernel oil, ethoxylated sorbitan ester (vegetable based emulsifying wax/cire émulsifiante végétale), aloe barbadensis (aloe/aloé) leaf gel, vegetable glycerine (glycérine végétale), tocopherol (vitamin e - non GMO soy/vitamine e - soja sans OGM)
Format
This product is available in: 25 ml/1 oz hdpe bottles; 118 ml/4 oz hdpe bottles; 118 ml/4oz aluminum bottles with or without a pump

Bottle pumps and other accessories can be found here: https://justthegoods.net/collections/accessories
For information (and a video) on how to unlock and/or trim a bottle pump, please visit: https://justthegoods.zendesk.com/hc/en-us/articles/4419623056663-How-do-I-unlock-and-or-trim-a-bottle-pump-

Please note: hand and body lotion is not available in 235 ml/8 oz glass bottles during the winter months because the water in this product can freeze, expand, and force enough pressure onto the glass that it shatters during transit. All cliches aside, Winnipeg *does* have a cold climate for a large part of the year, and that means this format is unavailable between mid-October to mid-April at my discretion. Thanks!

Please note: HDPE plastic bottles may be discontinued at any time.

Please note: Aluminum is thin and runs the risk of being dented either when shipped from the distributor to me, in the lab during production, or during shipping as a finished product. A dent in aluminum packaging is - at most - an aesthetic inconvenience in that it does not affect the quality or function of the product inside. The same is true for a beverage container - a dent that has not contributed to a leak does not impact the the product, which can still be consumed and enjoyed. Dents are therefore not considered product defects. For more information about this please visit:  https://www.instagram.com/p/B37nH80AbqE/
Alternative product uses

As noted above, this item is a multi-function product listed as a variant of the following products all made using the exact same formula: 

facial mosturizer for normal/sensitive skin
unscented lotion with avocado oil + apricot kernel oil*
after sun lotion
tattoo after care
hair smoothing lotion
Client feedback over the years has indicated a preference for these products to be listed with different names (even though they are made with the same formula) to ensure there is no confusion with the suitability of other Just the Goods facial moisturizers for alternate purposes. For example, facial moisturizer for oily/combination skin and acne prone skin should never be used around the eyes, or for tattoo after care / after sun lotion. Likewise, Just the Goods facial moisturizer for dry skin should also not be used as tattoo after care, and it may cause irritation around the eyes for some people so it is best to avoid that. 
Please also note that for 8 years I attempted to convey that Just the Goods facial moisturizer for normal/sensitive skin could be used as an eye cream, but overall this was not sufficiently communicated until the product was given its own independent listing.  And so, like in the case of eye cream, all of these variations has been listed with different names to better serve those who expressed preference for this. Thank you!

* This is more nutrient rich formula than Just the Goods's conventional hand/body lotion which is a more affordable product made from lower-cost grapeseed oil rather than higher cost apricot kerneil oil and avocado oil. This formula also contains aloe whereas JTG's conventional hand/body lotion does not. Some have found this lotion helpful for very mild cases of dry eczema due to the apricot kernel oil content, but this product has not been laboratory tested as a medical product for specifically that purpose.