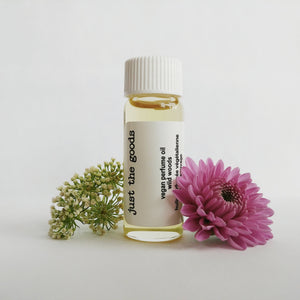 Just the Goods' range of gender neutral perfume and aromatherapeutic oils are made with essential oils, absolutes, and attars that blend with the wearer's natural chemistry to create a personal scent that holds close to the body.  Artificial scents, and chemical fixatives, propellants and/or preservatives are never included as they are associated with allergies among other health risks that simply do not meet Just the Goods' high standards.

Please note these are diluted essential oils and attars, which means they've been blended with a carrier oil and therefore should not be used with a diffuser. 

Playful features the rich, warm, and smoky notes of real vanilla (not sweet candy artificial vanilla) with the bright punctiation of clove.
To protect the integrity and longevity of this handmade product created without artificial preservatives, please store in a cool, dark place as heat and sunlight will cause premature deterioration. Use within 6 months.  
Ingredients
caprylic/capric triglyceride (fractionated coconut oil/huile de coco fractionnée), eugenia caryophyllus (clove/clou de girofle) flower oil, vanilla planifolia (vanilla/vanille) oil, tocopherol (vitamin e - non gmo soy/vitamine e - soja sans ogm), eugenol/eugénol°, anise alcohol/anis alcool°
Format
Each perfume vial is 7 ml/0.23 fl oz. Second photo shows three vials (with old labels) in a gift set, available on this website in a separate listing.

These vials are small enough that the perfume can be applied to skin by applying it to your fingertip then skin as desired -- ensure hands are washed clean before use to avoid cross-contamination within the bottle leading to premature spoilage. 

Perfume in roller-ball bottles are no longer available; I offered that format for several years, then suddenly found that the bottles were leaking during shipment. I contacted the packaging supplier and they had no helpful solution, other than to recommending each bottle be taped before shipping, which I ultimately decided was unattractive and time consuming, and thus unfeasible. 
Additional information
Please note that since Just the Goods perfume oils do not contain artificial fixatives they may need to be applied more frequently than conventional synthetic perfume -- this experience will vary from person to person depending on their natural chemistry, and the amount of scent they like to wear. And, since Just the Goods perfume oils do not contain artificial propellants, they wear close to the body and don't project scent from the body. 

What's the difference between perfume and aromatherapeutic oils?

Aromatherapy is the practice of using scent to support emotions or energy levels. For example, lavender is calming; peppermint is invigorating and energizing.

JTG's aromatherapeutic oils are developed taking into consideration how a scent will encourage someone to feel, rather than how the scent will wear on the body, especially since some people will choose to use the oils not as perfume/cologne, but as something to smell directly from the bottle.

JTG's fragrance line is designed more conventionally like perfume/cologne to be worn on the body.

All JTG scents are gender neutral. The best way to choose an aromatherapeutic oil is to consider the name of the variety, while also checking to see which ingredients appeal to you most. The best way to choose a perfume/fragrance for your body is to see which ingredients appeal to you: citrus, fresh herbs, woods, florals, etc.

Samples of JTG's primary range of aromatherapeutic and perfume/fragrance oils are made available so folks can try them on their bodies and decide if they like how it smells with their unique chemistry. Please find them here: https://justthegoods.net/products/sample-size-vegan-perfume-aromatherapeutic-oils-1. From time to time Just the Goods makes limited edition aromatherapeutic and perfume/fragrance oils, but they often don't have sample sizes because only a small quantity is made available for purchase, and because they often sell out quickly.

Just the Goods aromatherapeutic and perfume/fragrance oils are blended using essential oils and never contain synthetic fixatives or propellants. This means JTG's oils will smell different on each person because they'll mix with the individual chemistry of the wearer -- the way they smell inside the bottle doesn't necessarily smell the same way on the body. As such, it is always recommended to try samples first before diving into full size products, especially if you're not sure which ones you'd like best.
Note about this discontinued formula 
For over a decade Just the Goods offered a perfume variety called "Playful" -- it featured natural vanilla absolute made from real vanilla beans, and clove essential oil. It has been discontinued for a few reasons, which are as follows:

First: vanilla absolute is an alcohol extraction, which means it has a substantially different density than the other ingredients in the formula. This makes it very difficult to blend and package so each bottle has the same distribution of ingredients. It has, unfortunately, become too time consuming to continue making this product.

Second: Because the vanilla absolute has a different density, it settles in its packaging, and this has been mistaken as defect and/or damage, even though it is not

Next: The vanilla absolute used in this formula was a natural plant-based ingredient, not a synthetic/artificial vanilla. This means it smelled like real vanilla extract, not artificial vanilla flavour. An increasing number of folks have expressed preference for a vanilla scent that is reminiscent of cake, ice cream, or candy and were disappointed when this product did not meet that expectation, despite a scent profile/description conveying that this product was a warm, heavy natural vanilla scent and did not smell light or sweet like artificial vanilla flavouring.

Finally, on a more personal note, I don't enjoy vanilla scented things and didn't enjoy making this formula. 😅
But! Good news! Playful is still available in three formats: body butter, massage/body oil, and sugar body scrub. You can find them listed here: https://justthegoods.net/products/vegan-body-butter , here: https://justthegoods.net/products/vegan-nut-free-massage-oil  and here: https://justthegoods.net/products/vegan-raw-sugar-body-scrub 😊
The final 25 full sized vials of playful perfume were bottled and listed on January 8. If still available, this is where you would find them 😊 Thank you!!