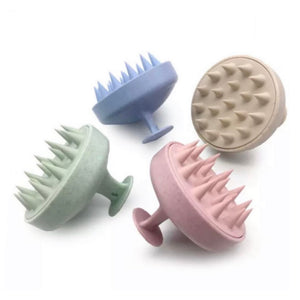 Jack59 prides itself in creating natural hair care products that are sustainably made and ethically sourced. Founded by Vanessa Marshall, Jack59's pH balanced shampoo and conditioner bars are paraben-free, sulfate-free, and vegan, with gluten-free options available, too. Using pH balanced products aligned with the natural pH of your hair is key to effective, healthy hair care.
Indigenous owned and based in Edmonton, Alberta, Jack59 uses ethically sourced ingredients and a maintains a committment to zero-waste through...

A 100% plastic free production process
100% recyclable packaging
100% compostable shower container
Producing long lasting bars that can replace up to three traditional liquid shampoo plastic bottles, and up to five liquid conditioner plastic bottles
Read more about Jack59 here:  https://www.jack59.ca/pages/the-story-of-our-shampoo-bars

About this product:
Jack59's scalp massagers promote circulation, which benefits follicles, and they exfoliate away product residue, skin cell build-up, and dandruff, all of which ultimately promotes hair growth. This massager can be used to thoroughly work treatments into your hair and scalp, and/or in the shower to create luscious shampoo lather. Oh! And they feel amazing, too, so you can use them any time you want, even out of the shower. 
Materials:
wheat straw and silicone
Dimensions:

7 cm / 2.75" tall; 8 cm / 3.15" diameter; 50 g / 1.76 oz