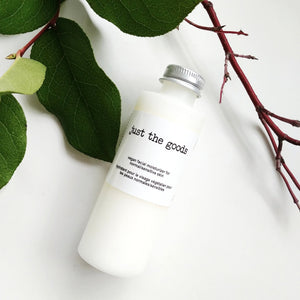 After extensive research, I've concluded that conventional products marketed as eye cream take advantage of misinformation about what skin really needs by offering formulas that contain little more than petrochemicals designed to feel light and absorb quickly, which are then packaged into smaller containers and sold at a higher price. 
Over the past 10 years, clients worldwide have expressed satisfaction using my facial moisturizer for normal/sensitive skin around the delicate eye area because it is made from nutritive, non-toxic, plant based ingredients and does not contain any essential oils which might cause eyes to water or burn.
Some people feel comfortable using JTG's facial moisturizer for dry skin under more extreme conditions (i.e. very arid climates, or while managing specific skin or overall conditions). Please note, however, that I *never* recommend Just the Goods facial moisturizers for oily/combination skin or acne prone skin be used around the eyes because they contain essential oils that are inappropriate for use near the eyes. Those with oily/combination skin or acne prone skin who purchase full-sized bottles of facial moisturizer for their needs opt to purchase a small/sample sized bottle of facial moisturizer for normal/sensitive skin to be used exclusively as eye cream. 

If - at some point in the future - I decided to create a wholly new formula that genuinely serves people in a better way as an exclusively single function product, you can trust that I'll be completely transparent about it and *not* take advantage of the marketplace collusion that imagines tiny jars as overpriced miracles ;-)
This product can be found in the listing for Just the Goods facial moisturizer for normal/sensitive skin, but I'm offering it here as its own listing to help folks find this information more quickly/easily.
*** Please note that this item ships as a 1 oz bottle of facial moisturizer for normal/sensitive skin, which is exactly what it is (as described above). I have not created new/different labels. Your will not receive a 1 oz bottle that has a label for "eye cream". ***
Ingredient highlights:
Avocado oil is rich in vitamins A, D and E, as well as potassium, proteins, beta-carotene and numerous essential unsaturated fatty acids. It also contains a high quantity of sterolins, which is reported to help reduce age spots, help heal sun damage and scars. Avocado oil is furthermore said to increase the amount of collagen in the skin, which facilitates regeneration, particularly in the case of skin that is dehydrated or otherwise affected by difficult climates (i.e. Winnipeg's dry winters). Some claim that avocado oil can even help to relieve the dryness and itching of psoriasis and eczema.
Apricot kernel oil has a high content of vitamins A, C, and E, as well as fatty acids such as oleic and linoleic acid. It is considered gentle enough to be used in products for babies, and is thus also suitable for mature and sensitive skin. It is well absorbed without leaving a greasy feeling, and can be helpful in calming the discomfort associated with conditions such as eczema and dermatitis.
Aloe vera gel is a powerful moisturizer that simultaneously helps to remove dead skin. It also stimulates the synthesis of collagen and elastin and is known to have a healing effect on burns and other wounds, all of which translates into assisting regeneration.
This handcrafted product is made without artificial preservatives. To protect it's integrity and to promote longevity, please store this product in a cool dark place and seal tightly between uses as heat and sunlight will cause premature deterioration.

Ingredients
vegan facial moisturizer for normal/sensitive skin / hydratant pour le visage végétalien pour les peaux normales/sensibles: aqua (water/eau), persea gratissima (avocado/avocat) oil, prunus armeniaca (apricot/abricot) kernel oil, ethoxylated sorbitan ester (vegetable based emulsifying wax/cire émulsifiante végétale), aloe barbadensis (aloe/aloé) leaf gel, vegetable glycerine (glycérine végétale), tocopherol (vitamin e - non GMO soy/vitamine e - soja sans OGM)
Format
This product -- facial moisturizer for normal/sensitive skin that doubles as eye cream -- is offered in 25 ml/1 oz hdpe bottles. Please note that the stock image shows a larger format of the same product (118 ml / 4 oz). A new photo of a smaller bottle will be uploaded when it becomes available. There is no product with a label stating "eye cream". Thanks!
Alternative product uses

As noted above, this item is a multi-function product listed as a variant of the following products all made using the exact same formula: 

facial mosturizer for normal/sensitive skin
unscented lotion with avocado oil + apricot kernel oil*
after sun lotion
tattoo after care
hair smoothing lotion
Client feedback over the years has indicated a preference for these products to be listed with different names (even though they are made with the same formula) to ensure there is no confusion with the suitability of other Just the Goods facial moisturizers for alternate purposes. For example, facial moisturizer for oily/combination skin and acne prone skin should never be used around the eyes, or for tattoo after care / after sun lotion. Likewise, Just the Goods facial moisturizer for dry skin should also not be used as tattoo after care, and it may cause irritation around the eyes for some people so it is best to avoid that. 
Please also note that for 8 years I attempted to convey that Just the Goods facial moisturizer for normal/sensitive skin could be used as an eye cream, but overall this was not sufficiently communicated until the product was given its own independent listing.  And so, like in the case of eye cream, all of these variations has been listed with different names to better serve those who expressed preference for this. Thank you!

* This is more nutrient rich formula than Just the Goods's conventional hand/body lotion which is a more affordable product made from lower-cost grapeseed oil rather than higher cost apricot kerneil oil and avocado oil. This formula also contains aloe whereas JTG's conventional hand/body lotion does not. Some have found this lotion helpful for very mild cases of dry eczema due to the apricot kernel oil content, but this product has not been laboratory tested as a medical product for specifically that purpose.