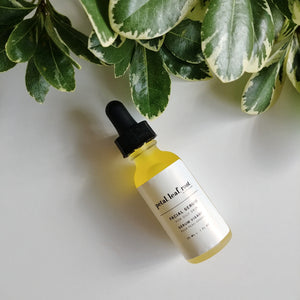 petal, leaf, root. by Just the Goods' facial serum for oily skin combines fast absorbing  oils to hydrate without residue while also delivering a rich variety of vitamins, essential fatty acids, and antioxidants to replenish and tone skin for soft texture and a healthy glow. This product contains plant-based ingredients that cleanse, nourish, and balance naturally oily skin; it does not contain any synthetic mattifying ingredients.


Jojoba oil is uniquely like our own skin's sebum, so it is remarkably effective at penetrating deeply to both deliver necessary moisture and control excess oil in every skin type. It also contains essential fatty acids such as omega-6 and -9, rich antioxidants, and nourishing vitamins A, D, and E, all of which combine to soothe, protect, and repair cellular damage.

Rosehip seed oil is harvested from the seeds of rose bushes and is full of vitamins A and C, antioxidants, and omega-6 essential fatty acids, which nourish cells deeply to protect, repair, hydrate, and promote healthy cellular turnover thanks to boosted production of collagen and elastin. 

Evening Primrose Oil contains a high concentration of a fatty acid called gamma-linolenic acid, which has been shown to reduce clogged pores by dissolving sebum and other impurities. The fatty acids in evening primrose oil are anti-inflammatory in nature, which helps to reduce redness and irritation. 

A powerful, stimulating skin cleanser, niaouli is a more gentle version of tea tree oil with both antiseptic and antibacterial properties that can help to manage skin irritations and keep skin clear. It's cicatrisant and vulnerary properties help to speed healing by encouraging new tissue growth, ultimately contributing to a smoother complexion via diminishing the appearance of scars from past acne, etc. 

Neroli essential oil softens skin as mildly antibacterial properties help to clear pores while imparting moisture. And, since stress causes spikes in cortisol levels which can lead to breakouts due to hormonal imbalance (i.e. acne, psoriasis, eczema, etc), neroli's aromatherapeutic value benefits the nervous system to reduce anxiety, and ultimately benefit skin health, as well.

One of the world's most powerful astringents, yarrow can strengthen skin tone, balance sebum production, and reduce enlarged pores. And, thanks to its well balanced antiseptic, antibacterial, anti-inflammatory, and emollient properties, it is furthermore known to treat and soothe infections, rashe and reducing redness. 
A little goes a long way! Experiment by adding only a few drops to the face, and adding as desired. Take an opportunity to deeply inhale the serum before applying to experience maximum aromatherapeutic benefit.
Each glass dropper bottle contains 30 ml / 1.01 fl oz. ----- not 25 ml as indicated on the box and label due to a typo <=-) 
This product contains yarrow, which is not generally considered safe for use during pregnancies and nursing. Pregnant individuals are encouraged to use the formula for normal/sensitive skin. Please click here for details: https://justthegoods.net/collections/pregnancy-nursing-babies-and-children
All petal, leaf, root. by Just the Goods products are…
made with 100% certified organic plant and mineral-based ingredients 
vegan and certified cruelty-free by the Leaping Bunny Program 
free from artificial preservatives, colours, and/or fragrances 
free from gluten, GMOs, nuts, palm, petrochemicals, and soy

offered in glass bottles/jars and packed in boxes printed on post-consumer paper with plant-based inks using a waterless process
This product is handcrafted without the use of artificial preservatives and lasts longer when exposure to the elements (i.e. air, humidity, sunlight) is kept to a minimum. Please store in a cool, dark place and keep tightly sealed between uses for maximum longevity.
NOTE: Not sure if this product is right for you? Try a sample first by selecting the smaller packaging option using the drop down menu
Ingredients:
simmondsia chinensis (jojoba) seed oil*, rosa canina (rosehip) seed oil*, oenothera biennis (evening primrose) oil*, citrus aurantium amara (neroli) oil*, melaleuca quinquenervia (niaouli) leaf oil*, achillea millefolium (yarrow) flower oil*, citral•, d-limonene• , eugenol• , farnesol• , geraniol• , limonene• , linalool•
* organic origin
• component of essential oil

huile de graine de simmondsia chinensis (jojoba)*, huile de graine de rosa canina (églantier)*, huile d'oenothera biennis (onagre)*, huile essentielle de fleur d'oranger amer (néroli)*, huile essentielle de melaleuca quinquenervia (niaouli)*, huile essentielle d'achillea millefolium (achillée)*, citral•, d-limonène•, eugénol•, farnesol•, géraniol•, limonène•, linalol•
* biologique
• composant d'huile essentielle
Directions: 
Apply to a clean, dry face by placing one or two drops of serum to your fingertips and gently patting serum into your face in the areas that feel tight/dry after washing. Store in a cool, dark place.

Mode d'emploi: Appliquer sur un visage propre et sec. Placer une ou deux gouttes de sérum au bout de vos doigts et tapoter doucement le sérum sur les zones de votre visage qui sont serrées ou sèches après le lavage. Garder à l'abri de la lumière et de la chaleur.